You will be required to have testing weekly as outlined below.
Essential steps to take for a successful testing process
Activate your MyChart account.

MyChart is the patient portal for our electronic health record, EPIC. An active MyChart account is REQUIRED for scheduling testing, receiving results, receiving reminders and canceling tests if needed. Yale Health has been sending information  to students for MyChart enrollment; if you have not enrolled, please do so now.

Download the MyChart smart phone app.
The MyChart app will give you easy access to these features directly on your mobile device. It will allow you to check in for testing using a bar code.
You can download it to your smartphone by going to the app store or to Google Play.
General Testing Information
The testing process involves a self-administered swab in the front of the nose in a specially designed testing booth. The testing process takes less than 5 minutes. Watch an instruction video.
All testing appointments are self-scheduled by students.
All students will be assigned to testing locations: 109 Grove Street (Rosenfeld Hall), 150 York Street, or 60 Sachem Street.
All students are expected to select a day of the week to consistently test on each week.
Testing hours will generally be:
109 Grove Street 7:30 a.m. – noon, Monday through Friday.
150 York Street 7 a.m. – 6 pm, Monday through Friday.
60 Sachem Street 7 a.m. – 6 pm, Monday through Friday.
You can view or request changes to test pattern assignments in Yale Hub.
How to Schedule a Test
Go to covidtesting.yale.edu. Bookmark it for easy access.
Enter your NetID and password.
Click on the scheduling link. It will take you automatically to your assigned testing location.
Select your assigned testing day based on your assigned schedule (Monday/Thursday or Tuesday/Friday)
Select a time on your assigned scheduling day.
Confirm your appointment.
On arrival at the test site, open the mychart app and select "view details of your upcoming appointment" to bring up a bar code (sample below) which is scanned to check you in.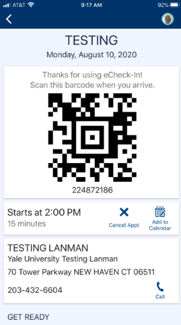 Test Results
Results will be delivered to students through the MyChart app. For instructions on how to download the app, see "Essential Steps to Take for a Successful Test" on this page.
4 different results are possible

Negative results: Indicate no evidence of Infection at the time of the test. You may have a very low level of virus in your system so this does not rule out that you may become positive on a subsequent test.
Positive results: Indicate that there was evidence of viral infection at the time the sample was taken. What to expect in the event of a positive test:

You will isolate in your room.
Yale Health staff will call you to discuss next steps in detail.
Your Dean will be notified.
You will receive a call from the Yale Contact Tracing Team.

Invalid: the lab uses human DNA as a control to make sure the sample is adequate. If there is no human DNA in the sample it is labeled as invalid and not processed. In most cases this indicates a need to be more firm in how you are swabbing the sides of your nose.
TNP: this result means Test Not Processed. This can happen for a number of reasons but one of the most common reasons is too much mucous in the sample which most often happens when someone doesn't blow their nose.

If you are in the recurrent testing program we will NOT repeat invalid and TNP samples. Instead you should just attend your next screening test as scheduled.
If you receive an invalid or TNP result and your test was individually scheduled test outside of a regular testing schedule, you should plan to schedule another test.
Scheduling Tips
Schedule in advance! (Walk-up testing is possible if space is available but you'll need to schedule in real time.
Schedule all of your testing appointments on your assigned testing days. Do not select days other than your assigned days of the week.
While you can't schedule recurring appointments, you can schedule as many individual appointments as you want in advance (up to one month).
We strongly recommend scheduling both of your weekly appointments at the beginning of the week.