Welcome
Current Status
Yale provides vital information about the state of COVID-19 within the Yale community.
Updated January 30, 2023
Vaccine clinic move: The Yale COVID-19 Vaccine Clinic has moved to the Yale Health Center at 55 Lock Street. Faculty, staff, students, and Yale Health members may schedule an appointment online.
Vaccination policy: All students, faculty, staff, and postdoctoral/postgraduate trainees — other than those with approved medical or religious exemptions — are required to receive a primary COVID-19 vaccine series and to obtain a booster shot within 14 days of eligibility. See the COVID-19 Vaccination Policy page for more information about the updated, bivalent booster requirement for students.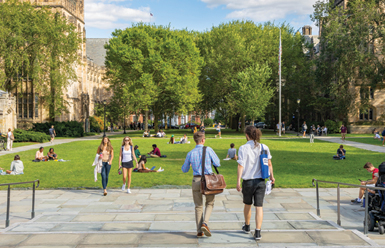 What to Expect on Campus
See on-campus policies, resources, and services for keeping the Yale community healthy.
Events & Gatherings  Visitors  Dining
Workplace Guidance
Quickly access workplace FAQs, childcare resources, guidance for managers, and more.
Travel Guidelines
View quarantine requirements, guidelines for university-related travel, and State of Connecticut advisories.
More Resources
Many of the university's schools and units provide helpful COVID-19 information.