Welcome
Current Status
Yale provides vital information about the state of COVID-19 within the Yale community.
Updated August 11, 2022
Testing changes: The university updated its testing requirements for fall 2022 and transitioned to a new PCR testing platform.
Vaccination policy: Students, faculty, and staff are required to be fully vaccinated, receive a booster when eligible, and submit their vaccination documentation to the university. See the COVID-19 Vaccination Policy page for more information.
Vaccine scheduling: The Yale Vaccine COVID-19 Program is scheduling all individuals for the full-dose vaccine and boosters for those who meet the criteria.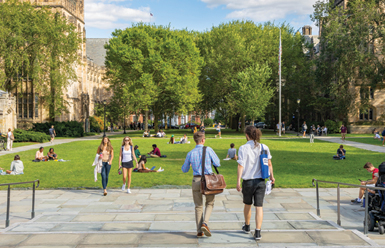 What to Expect on Campus
See on-campus policies, resources, and services for keeping the Yale community healthy.
Events & Gatherings  Visitors  Research & LabsDining
Workplace Guidance
Quickly access workplace FAQs, childcare resources, guidance for managers, and more.
Travel Guidelines
View quarantine requirements, guidelines for university-related travel, and State of Connecticut advisories.
More Resources
Many of the university's schools and units provide helpful COVID-19 information.