Updated October 1, 2021
Signage and digital assets are available for use by Yale departments to help reinforce health guidelines on campus and to publicize important services and resources.
Print Signage
The Office of Facilities and the Office of Environmental Health & Safety are installing signs in all public areas of campus. In consultation with their Facilities area manager, departments and offices may order supplementary signage through Yale Printing and Publishing (YPPS).
View CATALOG and place an order
Please contact Charles Biada at the Office of the University Printer for custom signs that cannot be obtained through the YPPS catalog.
Samples
Regulatory signs and engaging posters for use in sign holders or direct-to-wall mounting.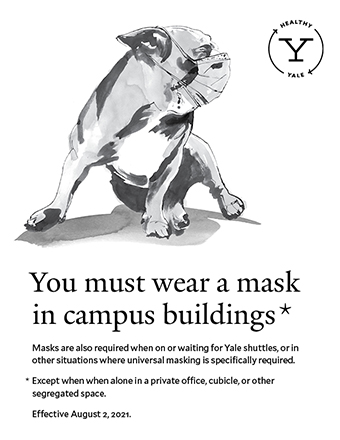 Black and white PDFs for immediate print (temporary use only).
---
Digital Assets
Digital assets, such as digital signs, videos, and more are available for download via Yale Box.
Samples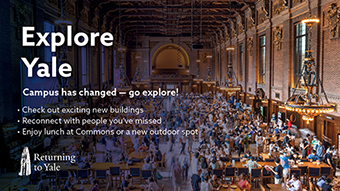 "Explore Yale" digital sign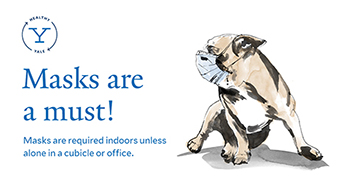 "Mask are a must" digital sign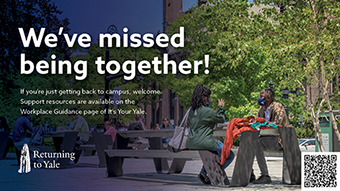 "We've missed being together" digital sign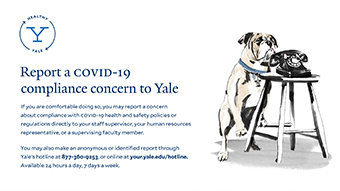 "Report a COVID-19 compliance concern to Yale" digital sign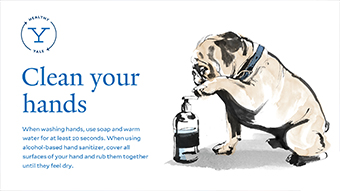 "Clean your hands" digital sign
Mask reminder digital sign
"Campus COVID resource line" digital sign